1. Informations▲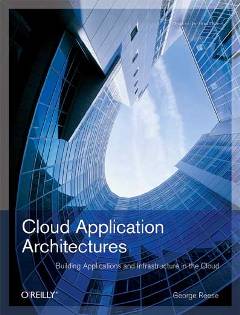 Auteur(s): Georges Reese
Editeur: O'Reilly
Version: 21 Avril 2009
Nombre de pages: 204 (Anglais)
Prix approximatif: 20,13 Euros
Commander le livre: Amazon
2. Présentation de l'éditeur▲
If you're involved in planning IT infrastructure as a network or system architect, system administrator, or developer, this book will help you adapt your skills to work with these highly scalable, highly redundant infrastructure services. Cloud Application Architectures will help you determine whether and how to put your applications into these virtualized services, with critical guidance on issues of cost, availability, performance, scaling, privacy, and security.
3. Critique▲
Le livre Cloud Application Architectures est idéal pour les lecteurs sans réelles connaissances sur le sujet, plutôt orientés infrastructure que développement. Son faible volume (moins de 200 pages) et la qualité d'écriture de Georges Reese vous invitera à découvrir les concepts et ambitions du Cloud Computing, mais également de mieux comprendre les infrastructures PaaS, IaaS, SaaS.
Georges Reese illustre la description des architectures de Cloud Computing en s'appuyant sur la solution la plus aboutie du marché (à ce jour) : Amazon Web Services (AWS). Il détaille ainsi les différentes composantes déployées par Amazon pour proposer une plateforme pour le Cloud: EC2, S3, CloudFront, SQS, RDS, EBS.
Le chapitre 3 s'attache à exposer les arguments en faveur des infrastructures de type Cloud par rapport aux anciens modèles. Des informations relatives au calcul du retour sur investissement (ROI), du TCO (Total Cost of Ownership) sont distillées et permettront au décideur de disposer d'une aide pour évaluer son projet de Cloud.
Les chapitres suivants sont consacrés aux images AMI, à la sécurité (données, réseau, corruption), au disaster recovery et à la montée en charge, l'un des intérêts principaux du Cloud. De nombreux conseils et préconisations sont fournis, afin de vous éviter de tomber dans les pièges des débutants et tirer partie de l'intégralité de AWS. De très bonne lecture, je vous invite, administrateurs, décideurs, à feuilleter cet ouvrage.
4. Table des matières▲
Chapitre 1. Cloud Computing
Chapitre 2. Amazon Cloud Computing
Chapitre 3. Before the move into the Cloud
Chapitre 4. Ready for the Cloud
Chapitre 5. Security
Chapitre 6. Disaster Recovery
Chapitre 7. Scaling a Cloud infrastructure
A. Amazon Web Services reference
B. Gogrid
C. Rackspace
5. Commandez▲